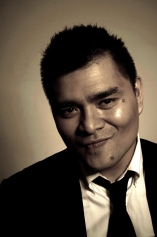 The state of New York should allow undocumented immigrants to get driver's licenses, a prominent immigration-rights journalist and activist said on Dec. 4.
Jose Vargas, who was born in the Philippines and became a Pulitzer–prize-winning journalist, urged an audience at the Tenement Museum to write to Gov. Andrew Cuomo seeking a change in state regulations that restrict driver's licenses to people who are U.S. citizens or documentation to be in the country legally.
Vargas, at the museum to promote his film Documented: A Film by an Undocumented American that will show in theatres in spring, came out about his undocumented immigration status in a 2011 article in New York Times Magazine.
The film chronicles Vargas' traveling the country and talking to people about what it's like to be an undocumented immigrant.
One of the most common questions Vargas gets about his undocumented status is why he doesn't apply to citizenship.
"It's not that simple. The immigration code is one of the most complicated laws in the country," he said. Vargas cannot apply for citizenship because he has acknowledged that he is in the country illegally. He has been offered help from friends and colleagues to become a legal citizen if he keeps quiet about the issue of immigration but has refused.
Vargas' situation was further complicated because he's gay. For many years in most of the country, marriage was not a viable path to citizenship. But with the elimination of key parts of the Defense of Marriage Act earlier this year, gay married couple can receive the same federal benefits as straight couples. Vargas joked that marriage s now an option for him.
Vargas gives Pres. Obama a less than stellar rating on his immigration policy. He said the president doesn't personalize his immigration background of his father moving to the United States from Kenya. Vargas also criticizes the president for saying his powers are limited on what he can do about immigration. "Legally and morally I don't understand why he can't issue an executive order to stop deportations," he said. Approximately 1,000 deportations occur daily.
Vargas believes immigration reform won't happen until Americans support fair treatment of the undocumented as well as a law for a way for them to get citizenship.
He said the immigration movement is not going to get anywhere without the support of white and black Americans. He compared immigrations to the Civil Rights Movement. "Blacks were fighting for years," he said, "but it wasn't until whites got involved that civil rights were able to be passed."
He said Americans could call their representatives about fair treatment of the undocumented and have conversations to make immigration personal and create empathy for the undocumented.
Vargas said the conversation is bigger than immigration. "I'm not talking to you about immigration, I'm talking about citizenship. Being a good neighbor and what that means," he said.