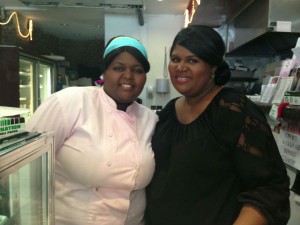 Strolling in East Harlem on a Sunday, I was drawn by a small bakery which claimed to have "the best Pumpkin Cake in the World." You know I had to go in! I was surprised to find it was Aroma's Boutique and Bakery on 116th and 1st Avenue. It holds a story of a woman determined to start her own business.
Jo-Ann Barett, with Puerto Rican and Dominican roots, is the co-owner of Aroma. The bakery makes all the goods themselves, and provides gluten-free, sugar-free and nut-free options. She opened the bakery 10 months ago with co-owner and sister Eileen Barett in hopes of providing her community healthy sweets. She always had the desire "to create her own thing." Barrett says the days are tough, often working 11 hours or more in a kitchen. But she says its worth it and takes pride in designing not only the cakes, but the shop as well. Aroma's has wholesale clients as well as individual patrons, and this summer, they've been busy getting a lot of wedding cake orders.
The sisters tells me about Aroma's best-selling cake, the pumpkin cake.
A small bakery with brick walls, the shop is not only designed with decorative cakes, cookies, and cupcakes but with Jo-Ann Barett's paintings as well.
Co-owners and sisters Jo-Ann (Right) and Eileen Barett seen below. Oh and yes, my healthy pumpkin cake was tasty. I'm looking forward to visiting again.