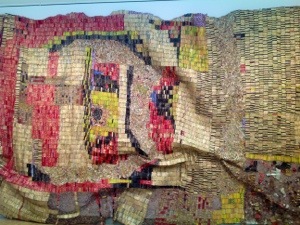 Wanting to get excited about getting in the art scene in New York, I quickly took up my friends Kelly and Rebecca's offer to visit the Brooklyn Museum on a Saturday. Kelly had written something in the email about El Anatsui. I didn't know who or what an El Anatsui was, but I was excited to see some art.
Imagine my surprise when I discovered that not only El Anatsui was an African artist, he'a actually Ghanaian. Seeing a description of him and his work, I remember vaguely hearing about him.
Anatsui uses found materials like metal and wood to create draping pieces of work. His works are so fluid, that he gives institutions the freedom to display however they feel appropriate, giving the viewer a different experience each time they see the work.
I definitely relate to his exhibition, Gravity and Grace, as he is interested and where these materials were found as well as for what they are used, or the travel life of these materials. This fits well with Anatsui's nomadic life of being from and traveling within Ghana and living in Nigeria. In fact, El Anatsui is quoted as saying:
"If you leave your country, you develop a kind of nomadic mentality. If I had lived in Ghana, my mind wouldn't have roamed, I wouldn't have expanded my experiences, or I would have been too comfortable."
#NomadLife
I was in awe of the draping pieces of work that from afar look so smooth they can be used to make a sequin dress. But then you go up close and see its in fact bottle caps, and tin cans, and they will cut you.
Other stand out works include the makeshift Ghana Must Go bags, which represent a time when Ghanaians were expelled from Nigeria in the 80′s after seeking economic prosperity.
Global Art vs. Local Art seems to be a hot topic concerning contemporary African artists. Whatever your thoughts, Anatsui does a wonderful job using local materials to manifest the global topics of waste, re-use, and innovation.
Gravity and Grace will be in display until August 4, 2013.