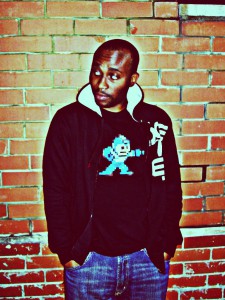 Meet Teck Zilla. DJ. Writer. Martial Arts Enthusiast. He's many things, but I got a chance to speak to him as his role as a music producer. He's been getting a lot of  play with his groundbreaking audio-documentary series. Navigating unchartered territory, these series bring a fresh resurgence to the likes of Fela, Ebo Taylor, and other musicians from a golden era of African music. All while interjecting audio interviews over the tracks so you can "learn something while bumping your head" as he puts it.  Nigerian-born and currently based in Montreal, the witty and sharp producer and I speak about music, video games, and chemistry of all things!
1) How long have you been producing music? How did you first get interested in producing?
Professionally in 2007 (I kinda refer to everything I did before then as rough drafts). I've always wanted to try my hand at making beats but never had the tools (digital audio workstations were pretty much hard to get in the early 2K's) but a friend of mine later gave me FL (then Fruity Loops, a digital audio program/workstation for programming beats/songs) and I just kept at it. 

2) Do you have a favorite track or album you produced?
I must say I love all the albums I've worked on but Brand New Masquerade with Mister Rae is definitely my favourite because it was way more personal than everything else. It actually set me into the path of sound engineering 'cos I had to learn the basics and all that jazz (which I hated at that time), setting up mics, creating a semi soundproof room etc. So much went into that project I can't even begin to explain. Crazy times *Ginger Baker voice* 
3) You've collaborated with a lot of African artists outside of Nigeria. What is the benefit of collaborating with artists across the continent?
Strength in numbers. Besides that it provides a new learning ground for 2 or more people to meet, share and create something new. I must add working with cats outta Zambia, Zimbabwe really sharpened my game on all levels.
 Big shout-out to Whiteman the Blacksoul by the way. He is a rapper (based in Kazakhstan) I collaborated with while I was in London and we lost contact until about 2 years later and that first collabo eventually led to an EP.
4) You once said you would like to see a United States of Africa type of album released. If you could be a part of this collaboration, who would be your A-list of emcees and producers to collaborate with?  Describe the dream "sound" of an album like this.
I don't even remember saying that *laughs* Just kidding,  List…wow. ok, let's see. Proverb, Modenine, Raiza Biza, Sarkodie, Blitz The Ambassador, Zone Fam, Whosane.  Producers: Madlib (don't ask why), Coptic, myself (huge grin), I know a couple of cats out in Nigeria that can do damage on the boards as well. So many dope cats out here can't even remember their names. As for the dream "sound", I would say 'DYNAMIC"
5) You've produced audio-documentary mixes featuring Fela, and revolutionary leaders from Africa in the 60′s and 70′s. What has been the reception to these mixes? Do you have any future audio-documentaries in the works?
Well both got tons of online coverage, listens and downloads and Afro JETS was one of the top ten albums in 2011 (selected by www.africaisacountry.com) so I reckon everyone is still warming up to the concept which could easily get lost in this glossy pop age we are living in. Yeah sure, I got something lined up but its not set in stone as ideas keep changing. I would definitely keep Who's World posted.
6) So you have a HUGE interest in video games! Word on the street is that you're working on a kiddie video game. Tell me about it!
Laughing at HUGE!! Well I just joined forces with my older bro who is an IOS content developer and yeah we actually have 2 games out on the ios platform. Support us. 

7) Also, you're a chemist. Is there any way your background in chemistry helps you in your process of producing music?
It's funny you should mention that though. I can't really pinpoint any direct (or indirect) correlation between my chemistry background and music making. I tried plotting a graph to do that and all I got is a scatter diagram, sigh! To be honest I kinda stopped trying to connect the two worlds a long time ago.