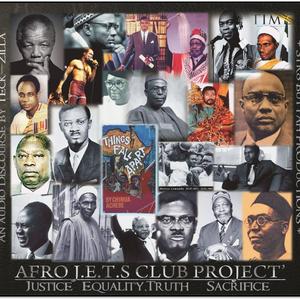 Last week I featured an audio-docmentary of Fela Kuti by producer  Teck Zilla. This week I'll highlight his first audio-documentary track, The Afro J.E.T.S. Club Project. With J.E.T.S. standing for Justice, Equality, Truth, and Sacrifice, Teck features voices who fought for Africa's liberation. Leaders like Kwame Nkrumah (Ghana's first president), Nnamdi Azikiwe (Nigeria's first president) and Patrice Lumumba (Leader of the Congo) make their way on the mix over 70′s Africa beats courtesy of Fela Kuti, Femi Kuti, Ebo Taylor, Gyedu Blay Ambolley, and others.
El-Hajj Malik El-Shabazz AKA Malcolm X, even makes his way into the mix over a beats by Fela. Teck Zilla says of the story behind creating this track, "Besides being a fan of both personalities, I definitely see parallels (to some degree) in their lives. More so the growth in Malik Shabazz after he visited Ibadan, Nigeria (3rd Largest city in Africa) was something worth noting. I doubt the two ever met but we all know he definitely influenced Fela in more ways than one. The fusion was a no brainer at all."
Teck hopes listeners will "enjoy the music and allow the history to slowly soak in. In other words, learn something while bumping your head."
I asked Teck Zilla a few questions about the creation of this project.
Why did you decide to focus on 70′s Africa. What some call the golden age of Africa in this period, other classify it is as post-Independence/failed states or "The Lost Decades." Why this era?
From my research the 70s was the height of what I would term the "musical revolution."  The music coming out of that era and I dare say was on par with anything else where. Golden age I agree but failed states? well, I don't necessarily subscribe to that as most African nations were still coming out of the shadows of their colonial masters and it was a pretty insane era in the political realm. Definitely a story for another day.
 Why mix music and politics for this project?
Good question. Personally I really don't dabble into politics that much but at the time of making this documentary, I had been consuming tons of material on African history and was completely fascinated about it. Its funny because people might just expect me to know these things but unfortunately I didn't up my history game until more than a couple of years ago and I'm still awed by my findings. Now the hard part was to blend it with the music, music lovers nowadays generally have a short attention span so I definitely had to cut down a lot of the political aspect like the Mandela/Amical Cabral, Sankara parts. Now that is a whole new timeline I would love to revisit.
We thank Teck Zilla for creating an innovative way of blending history, politics, and music in the digital age. Now go 'head and attend to you history class by giving this mix a listen!
Afro J.E.T.S Club Project Podcast by Teck-Zilla on Mixcloud
1. Afro Intro
2. Afro Radio Part Un
3. Afro Blast(Lumumba Tribute)
4. Afrolisticmystiquecal
5. Shabazz Over Kuti
6. Afro Ship
7. Meaning Of Democracy
8. Handsome Boy Afro
9. Afro J.E.T.S Club Theme
10. Afro Radio Part Deux
11. Pariwo(shout)
12. Afro Jam
13. Afro B-Boy
14. Afro Outro
15. Afro Wonder