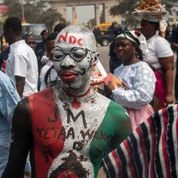 Once I heard President Barack Obama won re-election, I was determined to make my way back to DC for Inauguration Day in January. But then I consulted my bank account, and well, she said no.
I remember how electrifying the energy was in DC for President Obama 4 years ago. And my heart tinges when I hear of all the events happening in DC this weekend. But all was not lost! Because I'm a writer here in Accra, I got to cover Inauguration Day, sitting in the VIP section (mind you I couldn't see anything.) But it sure beats 4 years ago when I was freezing my behind off, standing so far from the President's inauguration speech, we had to use a radio to hear whats going on.
President John Dramani Mahama won re-election in December. Inauguration Day was held January 7th in Accra's Independence Square. See how Ghana celebrated Inauguration Day. Pictures courtesy of Emmanuel Gamor of  Ghana Decides.