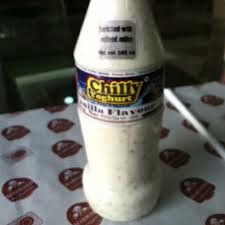 So one of the things that I love about living in Ghana is how EASY it is to eat healthy here. While in The States, corner stores are filled with cookies, candy, and other junk food, Accra street stands are plentiful of oranges, pineapples, papayas, mangos, coconuts… shall I continue?
Since I'm on a quest to lose weight (12 pounds lost so far) these healthy treats are helpful. One that I fell in love with is the deliciousness of brukina. Brukina is nothing more than vanilla yogurt cow's milk mixed with the whole grain millet. This is sold on the streets of Accra. If you buy it in a store, the cow's milk is replaced with vanilla yogurt. I already think vanilla yogurt is a delicacy sent by the gods, but for some reason adding the millet is like the proverbial cherry on top.
I'm not sure if its a street food, as it can be found in stores, gyms, restaurants, as well as in plastic boxes filled with ice water being balanced on the heads of market women. What I do know is that I'm up for a challenge.
I'm in search of Accras best brukina. From now until March, I'll be test-tasting brukina from the markets to restaurants to find the finest brukina in Accra. But I can't do it alone. Accra, can I count on you to send me your tips on where the best brukina might be? What makes for a great brukina?  Comment or tweet me your tips. I'll be anxiously waiting!