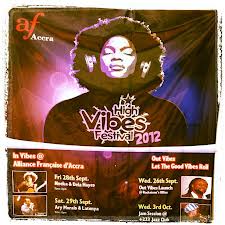 In Accra, Ghana The 3rd Annual High Vibes Music Festival is well underway. Starting from September 26th and ending on October 6th, the city of Accra will be blessed with live music performances with artists from Cape Verde, Nigeria, Mali, and of course Ghana. During the launch of the event Dr. Kwesi Owusu, one of the event organizers, stated the purpose of the festival was to stress the importance of live music in Ghana. According to him, live music has been missing from the music landscape in Ghana for the past twenty years.
The headliner of the event is Nigerian artist and activist Nneka. Through her songs she sings of corruption, racism, poverty, and other social injustices in Nigeria and in the world. Many may know her for the 2008 single Heartbeat.  Nneka performed this (I'm now very partial to the acoustic, live version) and a host of other songs at the festival. A hidden gem she performed was the song Salt Water, which discusses the sacrifice African immigrants make to migrate a better life in Europe by crossing by water. I haven't been able to find the song on the internet, but I'll keep looking.
If you're in Accra, don't miss the rest of the Festival. The festival concludes on Saturday october 6th with a grand concert. Performers include highlife legend Ebo Taylor,  Ghanaian soul artist Efya, and Ghanaian hip hop artist Blitz the Ambassador. As I look at the concert flyer, it starts at 5Pm, but I'm going with GMT time on that one. Living here for only 3 weeks, I quickly learned that GMT = Ghana Man Time = Colored People (CP) Time… I'll catch you there at 7PM.
On a serious note, I hope this festival is able to become large enough to attract an international audience to attend. Such a festival has the potential to spotlight up-and-coming, as well as, established artist in Africa and the Diaspora and put them on the world stage.
If you're unfamiliar with Nneka, check out this song God Knows Why featuring Black Thought of The Roots from her album "Soul Is Heavy" released earlier this year.