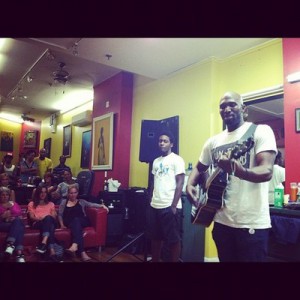 Our Photo Find of the Day comes from "Barbershop Stories" in Brooklyn, NY.  Barbershop Stories is a performance series with spoken word artists,
musicians, emcees, and story-tellers. And, yes, it's held at an actual barbershop; the De Lux Natural Hair Salon to be exact. The second installation was held on August 21st. In this photo, artist Ja Poet is seen on the guitar, along with Amani Fela. Other performers/story-tellers of the night included Rick Younger, Cammi Climaco, Susan Kent, and Jim O'Grady. The series is hosted by Dawn J. Fraser and Mike Brown.
Unless otherwise noted, photographs from the Photo Find of the Day series come from WhosWorld 365, an extension of The Whos World Media Project. Watch this space as pictures of travel, everyday life, and creative vision are posted. For more on WhosWorld 365, find us on tumblr here, or on instagram @WhosWorld.